This fundamental book examines the paradoxical process of myth-making and its counterpart, demythification, in the complex and fascinating art of the world renowned dramatist and novelist Carlos Fuentes, and that of Billy Wilder, the Academy Award winning director of films like Sunset Boulevard, Fedora, Stalag 17, Lost Weekend, The Apartment, and Some Like it Hot. The extensive influence of Wilder's film noir masterpiece, Sunset Boulevard, on the dramatic art of Carlos Fuentes, in particular his compelling drama, Orquídeas a la luz de la luna (Orchids in the Moonlight), that stunningly fuses Mexican and Hollywood cinema, with a brilliant evocation of two of the greatest actresses of the Mexican screen, Dolores del Rio and Maria Felix, is traced.
The Shattered Screen will be essential to film lovers, scholars of Latin American literature and culture, and to everyone who seeks to comprehend and appreciate how the powerful cinematic image is harnessed by the literary artist, who seeks not to compete with the filmic media but to incorporate its dynamism and its energy and wonder in order to vivify the literary work.
Professor Lanin A. Gyurko is Professor of Cinema Studies and Latin American Literatures in the Department of Spanish and Portuguese at the University of Arizona, where he also directs the Mexican and Mexican American Literature and Culture Program.

Professor Lanin A. Gyurko has authored four books on the works of Carlos Fuentes, including three: The Shattered Screen: Myth and Demythification in the Art of Carlos Fuentes and Billy Wilder, published by the University Press of the South in 2009; Magic Lens. The Transformation of the Visual Arts in the Narrative World of Carlos Fuentes, published by University Press of the South in 2010; and Spellbound: Alfred Hitchcock and Carlos Fuentes, to be published by University Press of the South in 2012.
Professor Lanin A. Gyurko is also the author of two extensive monographs and more than sixty essays on the narrative dramatic, and essayistic art of Carlos Fuentes. Dr. Gyurko has also published extensively on Argentine literature, including Julio Cortazar and Jorge Luis Borges. His acclaimed book, Twilight Zone. Reality and Fantasy in the Narrative Art of Julio Cortazar, was published by University Press of the South in 2011. Dr. Gyurko is currently preparing a second volume on Cortazar entitled, Blow-Up: Julio Cortazar and World Film, to be published by University Press of the South in 2013.
Professor Lanin A. Gyurko was honored in 2009 by the publication Studies in Honor of Lanin A. Gyurko, a book of essays written by his former Ph.D. students at Arizona, now Professors, Chairs of Departments and Deans at universities throughout the United States and Mexico.
Professor Lanin A. Gyurko, in 2009, received the Outstanding Achievement Award, granted by the University of Arizona Student Union Council.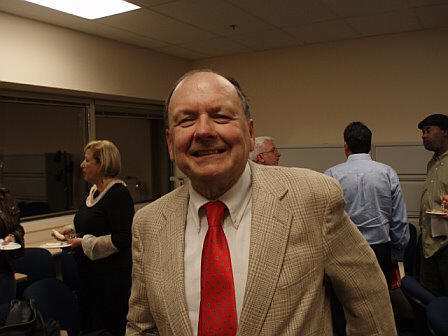 Lanin A. Gyurko