This latest work by Lanin A. Gyurko provides a rigorous, in-depth exploration of the short stories from all eight of the collections of the world-renowned author of the fantastic, Julio Cortázar, who masterfully continues the tradition of spellbinding narratives by Edgar Allan Poe, Franz Kafka, and Cortázar's mentor, Jorge Luis Borges. This book by Dr. Gyurko is the first extensively to relate Cortázar's superb short fiction to his experimental novel 62:Modelo para armar, which springs much more from the hallucinatory, unsettling, and uncanny universe of Cortázar's short stories than from his existentialist novel Rayuela (Hopscotch), from which the title of 62: A Model Kit is derived. Dr. Gyurko's incisively written and comprehensive volume will appeal to classroom teachers, specialists in Latin American and Comparative Literature, short story devotees, and fans of the intriguing and captivating television series, Rod Serling's The Twilight Zone, as well as to all readers interested in the complex and intriguing role that fantasies: psychological, supernatural, and metaphysical play in the Argentine writer's bizarre and compelling work, a fascinating universe which has inspired several masterpieces of film, including Michelangelo Antonioni's Blow-Up and Jean-Luc Godard's Week-End.
Dr. LANIN A. GYURKO

Recipient of the
Outstanding Achievement Award

below the great bell
of the USS Arizona
sunk at Pearl Harbor.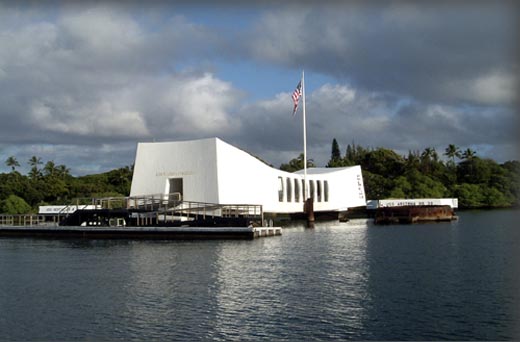 USS ARIZONA MEMORIAL, HAWAII, 1962
The bell was rung in April of 2009
seven times in honor of the 1,177 valiant crewmen
who lost their lives on December 7th, 1941.
Said Dr. Lanin A. Gyurko:
'It was a great and moving event to have the bell rung
in honor of the
Outstanding Achievement Award Recipients'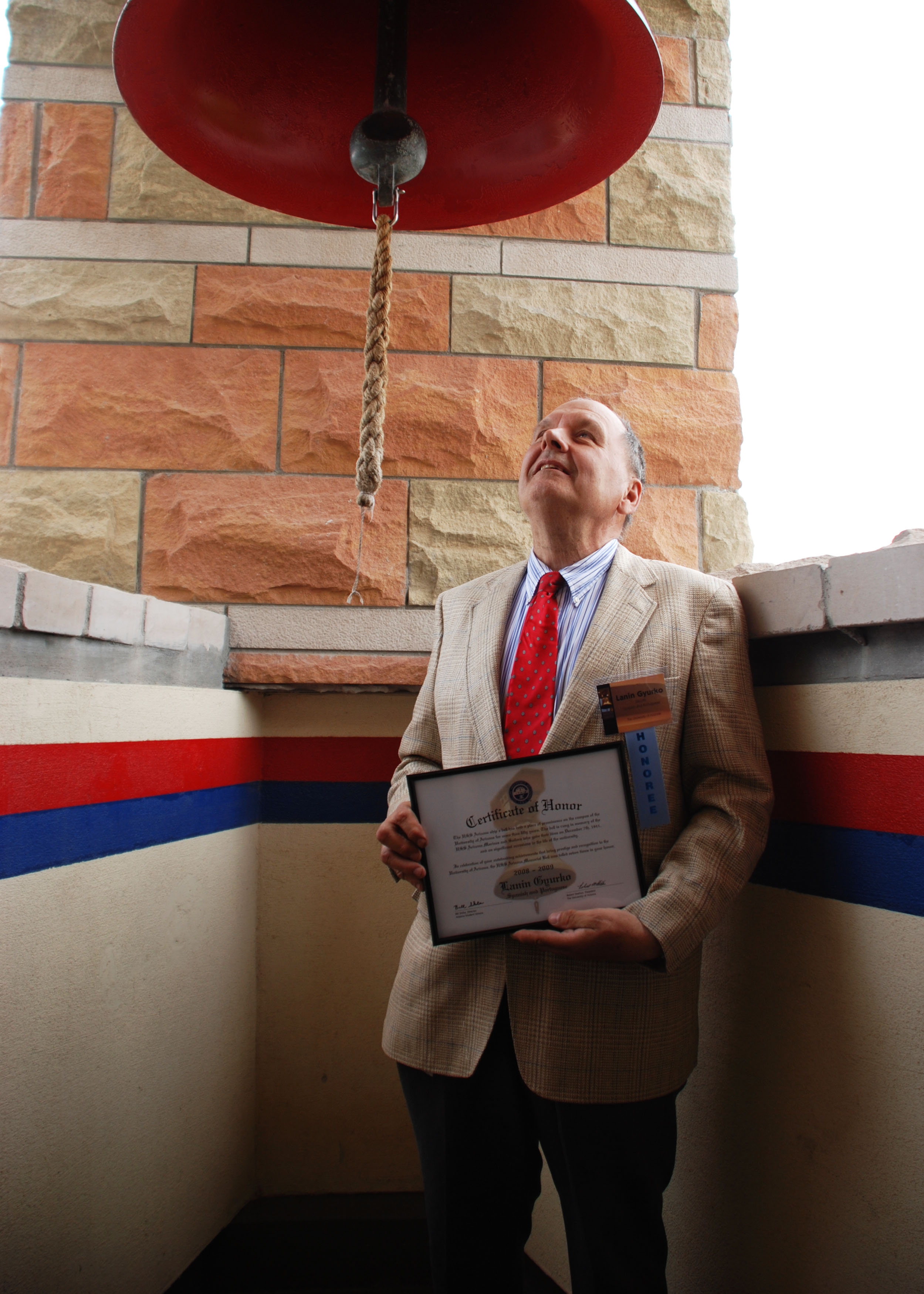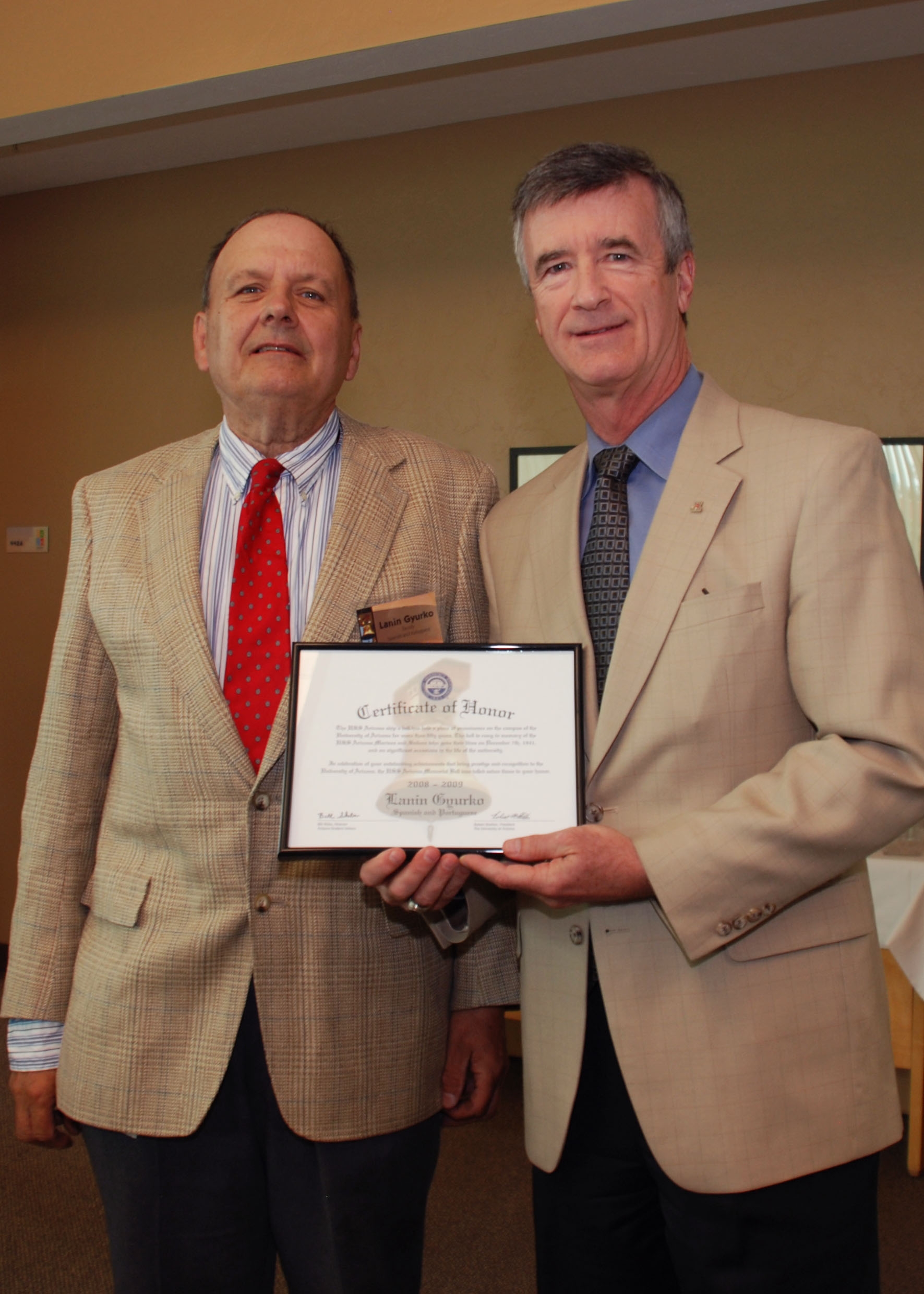 Dr. LANIN A. GYURKO

Recipient of the
Outstanding Achievement Award
At The Outstanding

Achievement Award Ceremony

With
Dr. ROBERT N. SHELTON,
President of

The University of Arizona
(USA)
Professor Lanin A. Gyurko is Professor of Cinema Studies and Latin American Literatures in the Department of Spanish and Portuguese at the University of Arizona, where he also directs the Mexican and Mexican American Literature and Culture Program.

Professor Lanin A. Gyurko has authored four books on the works of Carlos Fuentes, including three: The Shattered Screen: Myth and Demythification in the Art of Carlos Fuentes and Billy Wilder, published by the University Press of the South in 2009; Magic Lens. The Transformation of the Visual Arts in the Narrative World of Carlos Fuentes, published by University Press of the South in 2010; and Spellbound: Alfred Hitchcock and Carlos Fuentes, to be published by University Press of the South in 2012.
Professor Lanin A. Gyurko is also the author of two extensive monographs and more than sixty essays on the narrative dramatic, and essayistic art of Carlos Fuentes. Dr. Gyurko has also published extensively on Argentine literature, including Julio Cortazar and Jorge Luis Borges. His acclaimed book, Twilight Zone. Reality and Fantasy in the Narrative Art of Julio Cortazar, was published by University Press of the South in 2011. Dr. Gyurko is currently preparing a second volume on Cortazar entitled, Blow-Up: Julio Cortazar and World Film, to be published by University Press of the South in 2013.
Professor Lanin A. Gyurko was honored in 2009 by the publication Studies in Honor of Lanin A. Gyurko, a book of essays written by his former Ph.D. students at Arizona, now Professors, Chairs of Departments and Deans at universities throughout the United States and Mexico.
Professor Lanin A. Gyurko, in 2009, received the Outstanding Achievement Award, granted by the University of Arizona Student Union Council.