(Un)faithful Texts?
Religion in French and Francophone Literature,
from the 1780s to the 1980s.
Edited
by
PAUL COOKE and JANE LEE
(University of Exeter, UK)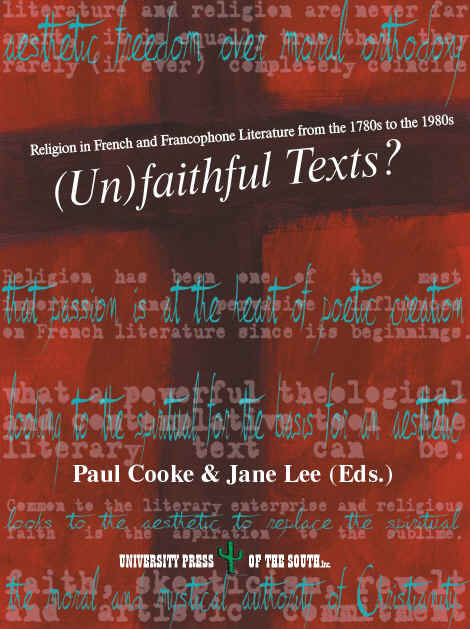 (Un)Faithful Texts?—the title of this volume is deliberately hesitant and interrogative since the essays it contains explores the interface between religion and literature in ways which highlight ambivalence and ambiguity. The contributions, provided by an international group of academics writing from varying degrees of faith and unbelief, and employing various critical and ideological approaches, demonstrate the fruitfulness of a heterogeneous approach to the relation between religion and modern literature within a French/Francophone context.
This volume demonstrates how different writers from eighteenth-century deist Bernardin de Saint-Pierre to contemporary authors like Annie Ernaux and Jacqueline Saveria Huré have used the literary as a means of exploring and formulating a response to various religious issues. The literary text offers a matrix in which philosophical and spiritual experiment can take place, and the transcendent can be approached. The variety and wealth of the experiments examined here are a testimony to what a powerful theological and contemplative tool the literary can be. (Un)faithful Texts? will be of interest to readers in modern French literature, cultural history, theology, and the ecclesiastical history of Quebec.
Paul Cooke's primary research interest is the interface between religion and literature, particularly in connection with twentieth-century French Catholic authors. He has previously published work on Mauriac, Bernanos, Cesbron, Saint-Pierre, and Sartre.
Jane Lee is a Gide specialist, having completed a critical edition of his Thésée for her doctoral thesis. Her main interests at present are in the field of modern Carribean Francophone authors, especially Maryse Condé on whom she has published a number of articles.
Both Dr. Cooke and Dr. Lee lecture in the Department of French at the University of Exeter, UK.
ISBN 1-889431-52-4
$49.95
HOME OUR CURRENT CATALOG HOW TO ORDER
NEW TITLES BY SERIES ACADEMIC PROPOSAL