AN AMAZING GRACE
John Thornton and the Clapham Sect
by
MILTON M. KLEIN
(University of Tennessee, USA)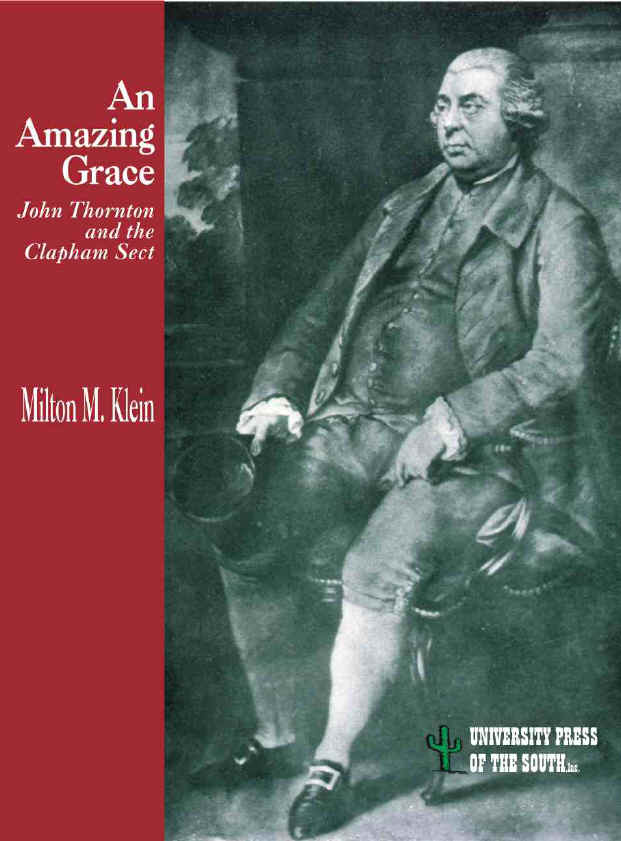 The book is a succinct but complete biography of John Thornton (1720-1790), an English merchant and businessman who was reputed to be the wealthiest man in Britain in the eighteenth century and, next to one other, the richest man in Europe. His wealth began with an inheritance of £100,000 from his father, also a merchant, and upon his death his estate was at £600,000. During his lifetime, it was probably greater, but he gave away much of it, making him also the most generous philanthropist of his age.
Thornton lived in Clapham, a small suburb of London, and around him settled a number of like-minded individuals who, collectively, were dubbed some years later as the "Clapham Sect," although they were not a sect in the traditional religious sense. He was the godfather of the group and set tone for its benevolent activities by his own extraordinary philanthropic efforts. He tried to revive the Anglican Church. He dispensed his money widely and supported Evangelical priests in the church, including John Newton, the composer of "Amazing Grace." The two became very good friends.
Upon his death, Thornton was eulogized as the greatest philanthropist of his time. Unfortunately he has been forgotten. There is no biography of him, no entry in the Dictionary of National Biography, and little mention of him in the many books about Evangelical Movement. In any case, as Milton M. Klein shows, Thornton was an important figure in eighteenth-century history and deserves to be better known.
Milton M. Klein is an Emeritus History Professor at the University of Tennessee in Knoxville. He was President of the American Society for Legal History from 1980 to 1982. In 1984 he was President of the Southeastern American Society for Eighteenth-Century Studies. He was a Member of the editorial board of the New York History; the American Journal of Legal History; Soundings; and the Presidential Studies Quarterly. He was General Co-Editor (with Jacob E. Cooke) of A History of the American Colonies in thirteen volumes.
ISBN 1-931948-24-0
2004
$49.95
HOME OUR CURRENT CATALOG HOW TO ORDER
NEW TITLES BY SERIES ACADEMIC PROPOSAL