WRITING THE STORY OF FRANCE
IN WORLD WAR II
Literature and Memory, 1942-1958
By
Michael L. Berkvam
(Indiana University)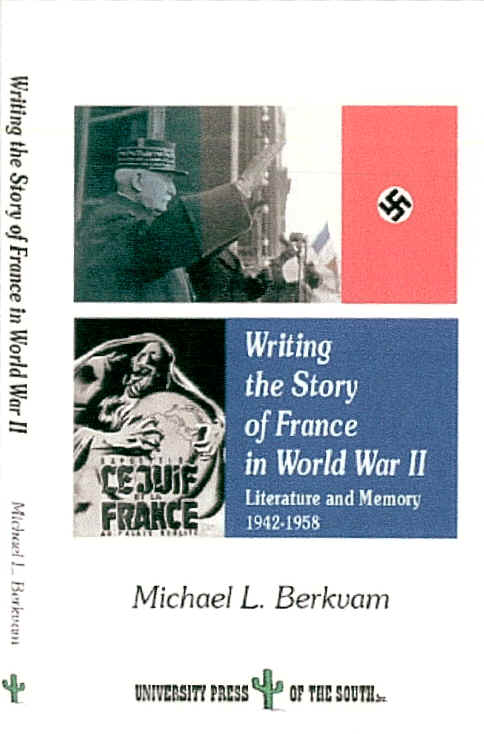 Writing the Story of France in World War II analyzes works of fiction (novels and short stories) that depict French life and attitudes from the defeat of France in 1940 to the liberation in 1944-45. This literature belies the postwar interpretation by Charles de Gaulle that the French resisted the German occupiers. These works also contradict the prevailing opinion that during the immediate postwar period the French did not talk about what happened during the occupation, that they repressed the memory of the defeat, the German occupation, the Vichy Government of Philippe Pétain, collaboration and French complicity with the occupiers. These novels and short stories portray, often in painful detail, a country that was lost after the defeat, and that, with few exceptions, either waited passively for the war to end, or actively collaborated with the German occupiers in the creation of a New Order and a National Revolution in France. This fiction presents a complex panorama of the war years, at odds with the convenient Gaullist interpretation of nationwide resistance and heroism. It also contradicts the interpretation that French writers kept silent about the war years and were uncomfortable with the memory of what happened in France during the occupation or during the period of the liberation and the immediate postwar reconstruction. The writers of these works of literature present a clear, sometimes brutally honest and often damning portrait of France and the French during their darkest hour.
"Berkvam's work is not just a contribution to literary studies, but is also a valuable work for historians. It will force historians to re-evaluate the thesis of a post World War II France suffering from amnesia and question many of the assumptions of the historiography of the post-World War II era." William B. Cohen, Professor of History, Indiana University
Michael L. Berkvam is Professor of French and West European Studies at Indiana University-Bloomington. He also serves as the Director of Graduate Studies in French Literature and is a core faculty member in the Honors College at Indiana University.
ISBN 1-889431-64-8
$49.95
HOME OUR CURRENT CATALOG HOW TO ORDER
NEW TITLES BY SERIES ACADEMIC PROPOSAL