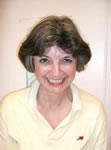 Presentation by
Dr. Linda L. Carroll
(Tulane University)
author of the article, "Venetian Attitudes Toward the Young Charles:
Carnival, Commerce, and Compagnie della Calza."
Linda L. Carroll, Professor of Italian at Tulane University, received the B.A. from Princeton University in 1971 and the M.A. and Ph. D. from Harvard University in 1972 and 1977. She is the author of Language and Dialect in Ruzante and Goldoni (Ravenna, 1981), Angelo Beolco (Il Ruzante)
(Boston, 1990; CD-ROM edition 1997), and numerous articles on popular
culture in the Renaissance appearing in scholarly journals and conference
proceedings.
Linda L. Carroll is the translator for the Sanudo Project under the
direction of Patricia H. Labalme.
She has been awarded grants from the Fulbright Commission,
the National Endowment for the Humanities,
the American Philosophical Society,
and the Delmas Foundation.
Linda L. Carroll was the recipient of
USG John Stibbs Award
for Outstanding Faculty Member in 2007.
Linda L. Carroll is the recipient of the Tulane University 2008
Weiss Presidential Fellowship Award
for Undergraduate Teaching.