MATT C. WALDROOP teaches Spanish in the Department of Modern Languages, Literatures, and Linguistics at the University of Oklahoma.
His current project is a critical edition and an English translation of JosÚ Cadalso's Cartas Marruecas (Moroccan Letters).
ISBN 1-931948-41-0
X + 178 pages
2008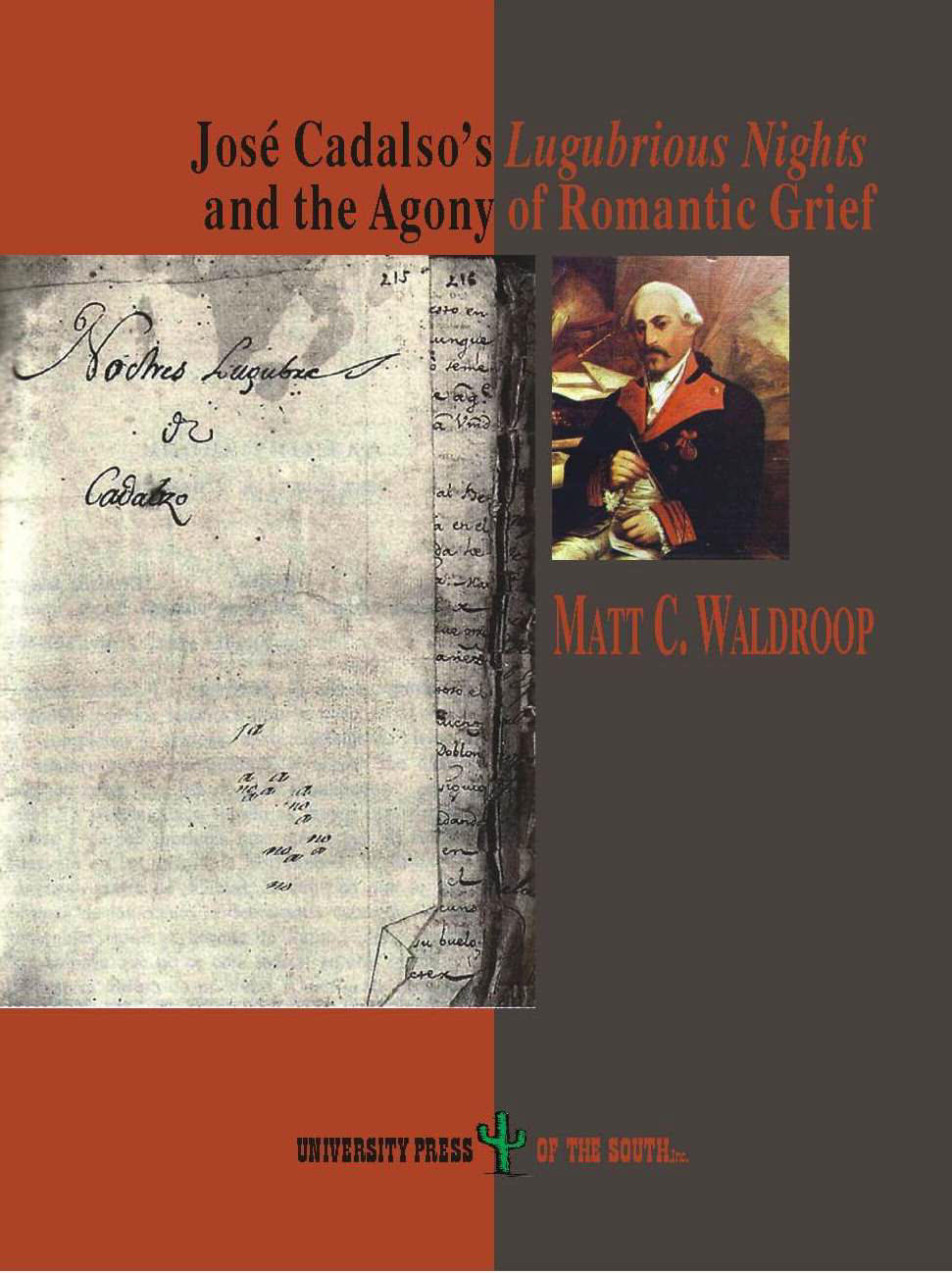 ''What Matt C. Waldroop demonstrates in this work is that Cadalso is the first full-fledged Spanish Romantic, writing in the style of the exaltados like JosÚ de Espronceda (1808-1842) in the next century...
Lugubrious Nights has more in common with E.T.A. Hoffmann (1776-1822), Edgar Allan Poe (1809-1849), or JosÚ de Espronceda's El estudiante de Salamanca (1836) than with the charming and sentimental young Werther, who dies of unrequited love.
In other words, Matt C. Waldroop demonstrates without a doubt that JosÚ Cadalso's Lugubrious Nights is indeed not only the first Spanish but also the first full-fledged European Romantic work.
For this reason, his translation of Noches l˙gubres is timely, necessary, and indispensable for anyone studying European letters in the twentieth-first century.''
FOREWORD
by
A. Robert Lauer

(University of Oklahoma, USA)
''Now for the first time in nearly 235 years one can affirm with certainty that there is a critical, annotated edition of Noches l˙gubres, as well as a faithful and meticulous translation of this very important work by JosÚ cadalso.''
A heroic death during the Spanish siege of British forces at Gibraltar in 1782 may have brought an abrupt end to the life of Colonel JosÚ Cadalso, but it did not still his ''voice of the heart,'' which lives on in the literary works he left behind. One of these, Lugubrious Nights (Noches l˙gubres, 1771), which many consider to be the first true example of Romanticism in Spanish prose, is reprinted here in a collation of the earliest texts of the work, with a foreword by A. Robert Lauer, accompanied by a critical introduction and the first translation into English of this canonical work of Spanish literature.
Also included is a facsimile of the famous and controversial ''Letter from a Friend'' of Cadalso, followed by its first translation into English. The author of ''Letter from a Friend,'' first published in 1822, makes the astonishing claim that Cadalso, in a fit of grief over the death of the actress MarÝa Ignacia Ibß˝ez, actually attempted, in the dead of night, to enter the churchyard cemetery in which she was buried, in order to exhume her corpse, mirroring the actions of his own protagonist in Lugubrious Nights. Although the truth of this rash deed has never been proven, the story alleged in the ''Letter from a Friend'' cemented Cadalso's status as an early icon of Spanish Romanticism.