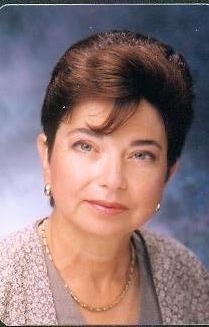 BARBARA MUJICA is a novelist, short story writer and critic. Her latest novel, Frida, is an international bestseller that has appeared in eleven languages. Based on the tumultuous relationship between Frida Kahlo and Diego Rivera, Frida was published in hardcover by Overlook Press in 2001 and in paperback by Plume in 2002. Barbara Mujica's other book-length fiction includes The Deaths of Don Bernardo (novel, 1990), Sanchez across the Street (stories, 1997) and Far from My Mother's Home (stories, 1999). Far from My Mother's Home was translated into French by Alain Saint-Saëns and published in 2005 by Presses Universitaires du Nouveau Monde under the title of Loin, très loin de la maison de ma mère, and is currently being translated into Spanish.
Dr. BARBARA MUJICA's essays have appeared in The New York Times, The Washington Post, The Miami Herald, The Dallas Morning Star, and hundreds of other publications. In 1990 her essay "Bilingualism's Goal" was named one of the best 50 op-eds of the decade by The New York Times. Her latest non-fiction works are Teresa de Jesús: Espiritualidad y feminismo (Biblioteca Crítica, 2005), Women Writers of Early Modern Spain: Sophia's Daughters (Yale University Press, 2004), and Hispanomundo (Harcourt College Publishing, 2001). She has edited eight literary anthologies. The most recent are Milenio: Mil años de literatura española (2002), Antología de la literatura española: Siglos XVIII y XIX (1999), and Premio Nóbel: Once grandes escritores del mundo hispánico (1997).
Dr. BARBARA MUJICA is President of the Association for Hispanic Classical Theater and Editor of Comedia Performance, a journal devoted to early modern Spanish theater. A Professor of Spanish at Georgetown University, she writes extensively on Spanish literature, in particular, Teresa de Ávila, and her articles have appeared in many academic journals. She is book review editor of Américas, the cultural magazine of the Organization of American States and director of El Retablo, Georgetown University's Spanish-language theater group. In 2005 she was editor of the Latin American theater section of the Latin American Handbook. She is a judge for the Helen Hayes Theater Awards.